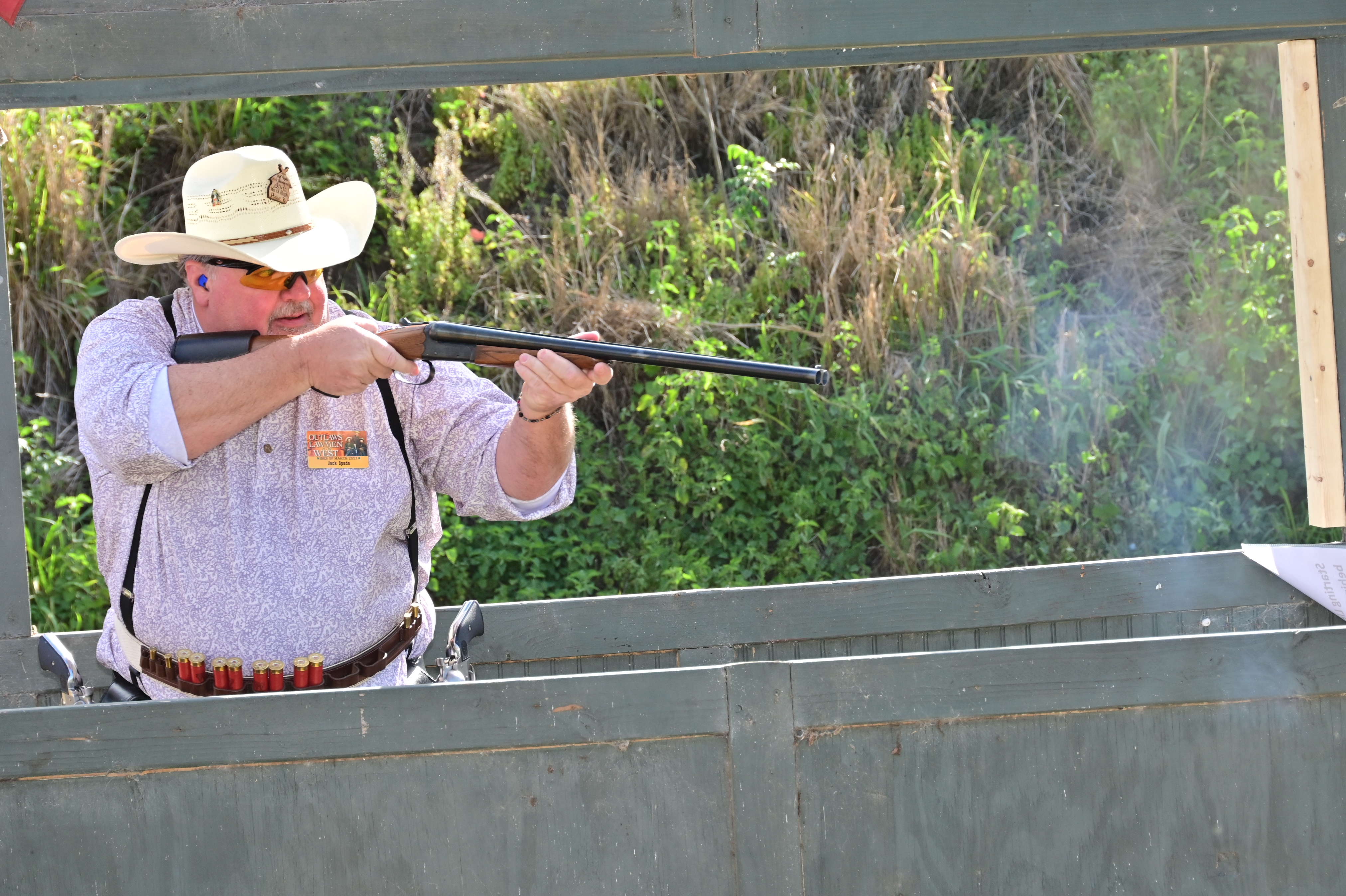 Posts

396

Joined

Last visited
Previous Fields
SASS #
SASS Affiliated Club

panhandle cowboys, Panhandle cattle company, Red Hills Rangers, Big Bend Bushwhackers
Profile Information
Gender
Location
Interests

Shooting, offshore fishing, collecting guns
Recent Profile Visitors
The recent visitors block is disabled and is not being shown to other users.
Jack Spade's Achievements
For one I don't like carrying the weight around. Second, I run the timer a lot so don't want the weight or take the chance one bounces out of the holster or gets caught on a prop while I am following a shooter.

I really like having a pistol rack or holsters on my cart.

Were you at the match at Chipley, FL yesterday? Send me a PM and I can hook you up with some numbers.

I looked in my Lyman 2nd edition shotgun load manual and I did find a page with load data for 473 in a remington rxp hull for 1 Oz of shot. Most of the loads were 1 1/8 Oz and higher. I don't have access to my older metallic loading manuals at the moment but will check them when I do.

Everyone commenting about the slide missed the part where he said it was for wild bunch.

So I am someone who actually had a problem that was cured by installing an aluminum liner. I live in Florida near the gulf and with the salt air everything rusts. My rifle developed a hiccup that while shooting a stage I would lever the gun but a cartridge wouldn't feed out of the magazine onto the carrier so no round would load and I would have to lever again. I tore the rifle down and found I had rust inside my magazine tube. I cleaned and oiled it and it worked for a match or two then happened again. I decided to try the aluminum tube with the stainless follower and it has solved my problem completely.

I have a nice one, message sent.

We learned on nearly the same, I learned on a 1950 ford pickup.

Growing up we had a 2 ton grain truck with dual 4 speed transmissions. Shifted very similar to the video but you had to use the clutch and had to double clutch a lot specially when down shifting.

Media mail/book rate is usually cheaper than flat rate.

I prime everything on the machine, absolutely hate hand priming. I load on a 650 and will occasionally get a high primer if I get lazy on the handle. I check all my rounds anyway so I always catch them so not a big deal.

Do you happen to need the reloading dies or bullets? If so PM me, I have some I would like to get rid of.

I have an 800 cvt (convertible) and a 800 plus, they are great machines. Currently setting up another 800cvt for a friend. The best thing I can advise is to get ahold of Jim at http://www.jimsearneye.com and order his pdf on how to adjust a PW 800. I think it cost $5 but it is the best $5 I have ever spent. He goes over adjustment of every stage on a PW 800. He approaches it from the stand point of you just got a used 800 from your buddy and it doesn't run right. He is also a good source for PW parts if PW is out of stock or really behind. You will love that machine!