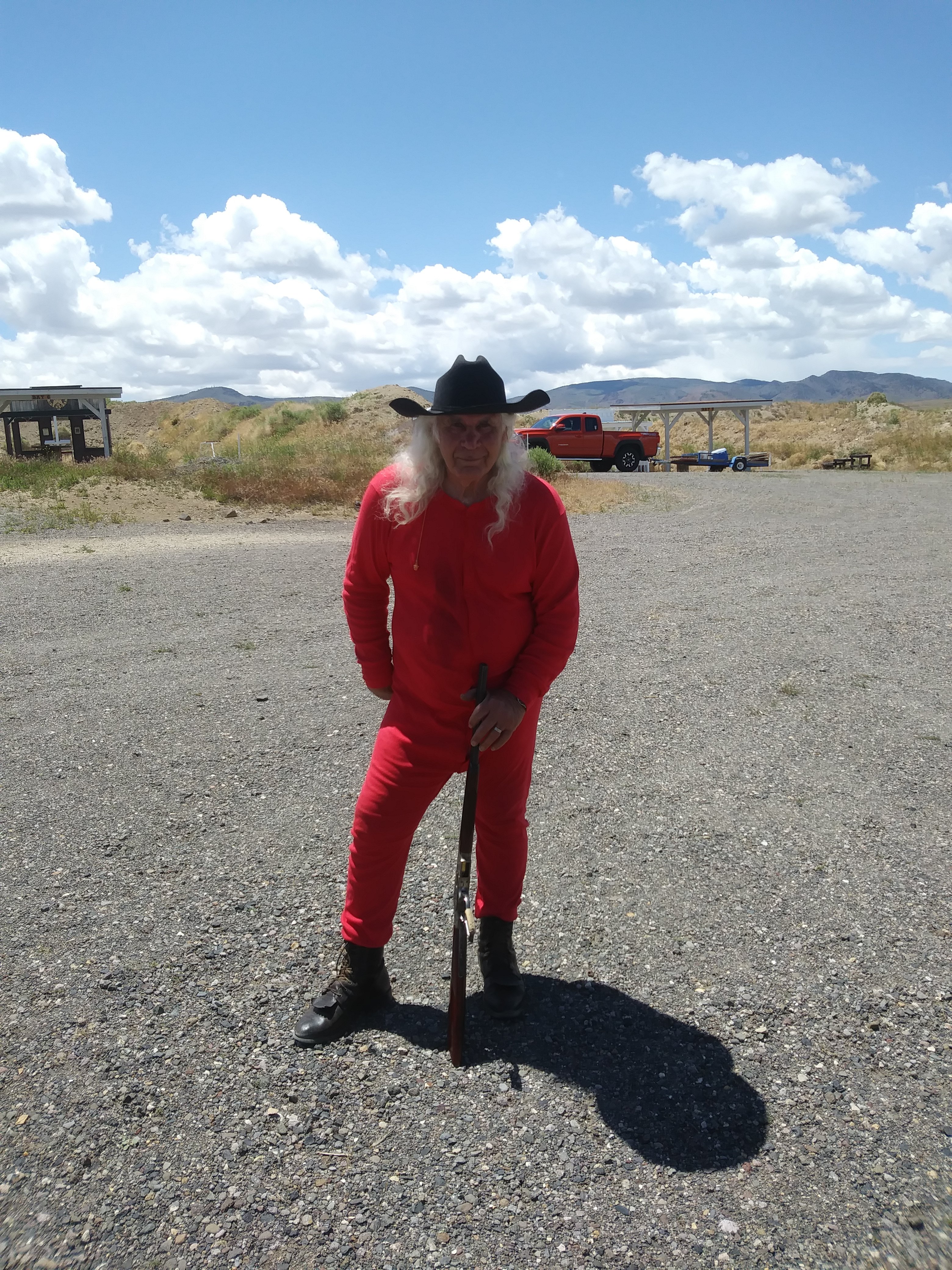 Posts

32

Joined

Last visited
Everything posted by Fallon Kid
I understand the interest in this unique gun. I bought a PH Whitworth last year and love all it has to offer. I would suggest getting a mold for it as the sources are drying up for a hex mold. And once you start getting invested I'm sure you will find a way to get one. And it will give you excuse to fiddle with paper patching etc. I made a brass jag as a hex jag is pretty rare.

There really is a black powder higher power! I have been scrambling since yesterday to get 32 SW short reloading on my dance card. I bought some new 32 sw long and will cut down. No big deal. 32 short dies are gone. However; I looked through my stash (10 years ago a retired gent gave me a pick up load of reloading stuff) and what did I find. Looks new and never used. Just happy and thought I'd share. And I have what I think is a trove of dies that includes every caliber made even some wild cats. If you have a hard spot finding a unique die, hit me up. Thanks for letting me share my elation. Also I'm willing to lend a die set but shipping on you.

Just rec'ed gun today and am absolutely elated. Thank You so much as I feel you made me the best deal I have had in a long time. Gun is perfect in my eyes and better than I ever expected. Again Thank You. Fallon Kid

Looking for a pocket gun 1849. Would prefer the one with loading lever. Need for speed matches and my tired and out of shape top breaks were pretty good in 1895. Not so much today. Thanks "Called Dillon this AM and ordered conversion parts for my 1050. HELP I've fallen in debt and can't get up."

Boomer took'em. And my 2 cents, or 8 cents in todays market, I have never had a bad dealing with a badged cowboy shooter. I know folks here are honest and your word means something. It does make a person feel good when another pard puts in a good word about you. I just feel lucky to be a part of all you cattle rustlers. LOL

Boolit Boomer. I sent you a PM yesterday and maybe not get as I'm not the best geek. Would like to converse. Fallon Kid

Pic says it all. Still in bulk wrap plastic NIB. (5 boxes @100ea) I think 110.00 shipped for the five boxes is fair but if I'm out of line on price please contact me. I'm cleaning shelves and making effort to get reloading stuff in circulation. If you don't know what to load with these bullets probably best to pass. Phone call works. Or if you need more info. Thanks

I'm not sure but don't think so. I took out the loose items to inspect but not the motor. Also I am not conversant with this item or any Dillon things. I'm learning but still in bolting the press down stage. It's a 1050 and huge.

Dillon case trimmer. NIB includes vacuum attachment. 225.00 shipped. I got trimmer as part of a used Dillon press. I have not ever needed to trim brass except one time in 7 years. I may live to regret selling as I have disposed of stuff and later turned my head into a jackass eating jelly beans. I wish I could lower price but I know I will be needing some Dillon do-dads and it don't look like they got any cheaper. Mailing a check works and my thing is I don't cash check till I get a thumbs up from buyer. And I have been on classifieds a few times but my site skills are on par with my match scores. Would like phone call to seal the deal. Thanks

I have a question. I'm working on a nameless top break 38S&W. The hand needs some type of spring (pretty sure anyway) and by looking at the pic does the hand appear to use a v-type or a flat spring. I have researched a good bit and have noted both types used in this application. I have been inside several top breaks lately and have got 2 of them running. Started to feel pretty cocky but this lets me know I ain't no gunsmith. Or gunsmith's son. But I guess I'll work on them till the gunsmith comes. Thank you. I know somebody has the answer. Jerry a.k.a Fallon Kid

I only attended last two years Nevada state. But thank you for supporting us. I think we have the best people possible in our club but our visitors are the best people you could ever want to meet. And HK, was it you that brought the 6 crates of live lobster? If not, well, maybe next time. LOL

Be there Sun. Loading this moment 38 spc. Using CSB-1 powder (Maxium). Fires so mellow I don't have to even aim. Which I would never think of doing anyway. Brass/mould How much? Also my new old Hopkins and Allen top break fires all 5 in appox 2 sec. I did not bring shot timer. We might do better next year at ROOP. Fallon and thanks. And Ta-Daa. Got a Walker coming in Fri.

Thanks Hoss. I needed that. I was starting to think I was a social outcast for my interest in pocket guns. I do spend a lot of time with them. Someone mentioned not lubing when using Black MZ. Would like to know more as lubing them little bullets as it is a mess with my potato size fingers. I went and bought a Lee mold 358-158-2r because it is round nose and has some serious lube groves. Would like an opinion on that. Also I have a S&W model 2 single action would like to shoot if there is a SA side event. I gave s/n to S&W company and told it was new in 1884. Again thank you. I want to hear from the guy that owns a mule not the neighbor next door.

Morning HK. Thanks for the tips. I admit I respect advice from those who have experience. And I do wish I could buy what I need. My nearest big town is 70 miles away so shopping is limited. Needless to say I have scoured the net looking for brass. I shoot .38 special as one of my main calibers so cutting them up does not seem to be a better option as I have .357 cases which I don't see a need for. And the nickel cases, I tried to cut/trim one. Much harder to deal with than brass. I do appreciate input and you sound like a person worth having several cups of coffee with and talk specifics.

My error. I have sold two items here so I was not aware of different forums. I posted my test results at the correct forum having figured out my mistake. I'm sorry if I offended.

Thank you for the information. I take all info on board. And the MZ. Was at the Reno Sportsmanwearhouse a few years ago about the last time of powder shortage. No interest at time of black powder. Saw it 10 bucks a pound. I told the salesman to empty store room. I have quite a bit of quality BP for long range so I use MZ for the everyday shooting. All the smoke but a bit cleaner. Also during last powder shortage I bought some CSB-1 Maxium 10lbs I am starting to use it and it is wonderful stuff. 3gn in 38 special is nice. I did some 45acp with it and it seems to have all the push but feels kinder than titegroup. Wish I had bought more.

Just back fm testing my .357 brass cut to 38S&W. Perfect as far as I am concerned. First thing I did getting back is check case expansion. None. All were .377 .378. Bullets were from a Lee mold .357 125 gn. They actually dropped .359/.360. Had to resize to.357 Cast was with a soft lead 10-12 BHN. I loaded with Allient Black MZ 2ff. 7gn by weight. (use what ya got. I have 16 lbs) Veggie wad .030. Guns used in pic. My intent is to use the pocket pistol in speed matches. Actual firing was VERY mild shooting traditional. I just might have a chance. LOL Anyway there were a lot of lessons learned and kids don't try this at home. Smokeless powder was never considered so please take this caution seriously. I have a fine working S&W 38 model 2 fm 1884. We have to protect our history as we don't own anything, just care takers for next crop of cowboys and cowgirls. Contact me if you need more info. Again sorry about pic. I'm working to correct

The saga continues. Sun I cut down the .357 cases(50) and first off a Harbor cut off is not precision. So leave room to trim to spec. Also I final trimmed cases to .773 or very near. (trimmer does job but not to thousands perfect) I noticed on thing that the .357 cases I have are thinner at mouth case than at new mouth when cut down. The sample cases varied a few .001 but were all thicker at the new cut down mouth. I took note. Mon I had emergency so did not work on this project. Went to mail box and had package. "Please God don't let it be the packages of springs I ordered" It was! So spent day working on one of the 4 top break pocket guns I bought a week ago. Got it up and running. So back to 38S&W. I had cast some .360 RN and made a dummy load. Tried it in a Hopkins and Allen police and case not fit due to expansion of thicker case and the stated diameter for a S&W38. So I slugged the Hopkins and Allen and it was .355, And the rifling overall is best described as not overly pronounced. I resized bullets to .357 and made a dummy round. It measures out to a S&W38 cartridge except for rim thickness. This could be issue in other guns but all my prospective shooters work fine. Plan to load and test at range today. I am debating about using Black MZ 2ff or Schuetzen 3fff. Bullet is lead 10bhn and 125gn. Lube is my homebrew. (again sorry for pic. I'm trying to fix but them pocket guns keep calling me out) LOL

Thanks Snake for info. And all taking time to comment. Getting to go to shop and set up proper line to crank out a few hundred modified 38 S&W. I have done a little math prior to starting and looking at the properties of brass. With cartridge brass not too much is ever static. We push and squeeze brass all day long and measurements change. The circumference delta between 38 spc and S&W is .0204. Note: C not diameter. The expansion needed for brass to conform to 38 S&W is down to third or fourth digits. It happens every time we light one off. Not willing to bet my life on anything but till you plan and test you don't have an answer. Thanks

A 94 year old man got engaged to a 24 year old woman. The family on both sides was aghast and tried to talk them out of such a doomed marriage. They approached the old man and all reaffirmed than 99% of May-December marriages prove fatal. The old man is a shaken voice said, "well, if she dies, she dies." Appreciate the feedback but I have short supply of brass. I re measured some dimensions. I'm using a factory PPU 38 S&W as baseline. PPU .357 mixed head Dia at ctr of brass .380 .378 Rim dia .440 .440 Base dia .381 .380 Cast bullet size .3585 the split case was considered but I found many users stating they did not have problem after many reloads. I only plan to neck size vice full sizing after fired formed. My first choice is to by proper brass, But where? And I will follow up with a review after a few firings. Hard data overcomes speculation. It may well not pan out and I've hand many plans fall through. I get back up and try to correct the problem. The problem is I have the guns and nothing to shoot in them. And again thanks for taking time to review. I am always open to hear another point.

Just some info in these hard times. I picked up (5) S&W 38 cal pocket guns recently. As we all know anything ammo related is scarce, expensive or not to be found. I need 38 S&W brass and found .357 brass will fit most of the 38 S&W brass criteria if cut down. I don't shoot .357 but have several hundred rounds I have picked up as result of Cowboy shooting (I use 38 special) and gets easily mixed in with my pick-ups. First thing needed is to cut .357 brass near SAMI specs (.775) I found cutting at 1/32sec or a tad more leaves room for good trimming. Don't try to cut exact. The brass will never cut straight without some high end equipment. I bought a Harbor 6" cut off saw. Make sure to use metal cut off blades and NO type of steel blade. The attached PIC (1) displays a proto type jig to hold brass at proper length. Insert brass in back hole ensure fully seated. I'm sure anyone can improve on this idea. The rest is basic case preparation. Trim to size. And may vary from SAMI. I measured commercial loaded ammo and case was .677 so use your best reloading knowledge. I am starting with .780 as my guns don't really care and I got a fudge factor. I am not recommending you do this but just letting you know what I'm doing in a crunch. I am planning to use black powder and will fire form brass in a 38 police special (38 S&W of course) It has a strong action. My top breaks are older than me and that's old. Also no liberals were harmed during any case preparation sequence Please excuse pic aspects. For some reason I correct and they still post askew.